Thank you for visiting our site! My name is Guy Pylypiw and I am the owner of Oshawa Carpet One along with my wife Michelle. As proud members of the Oshawa community we wanted to share a little bit of our story with you. Our location was originally built to be a flooring store and opened as Stradwicks in 1978. In the late 1980s ownership changed but the store remained the same. It was in 2008 that the store became part of the Carpet One family and changed its name to Oshawa Carpet One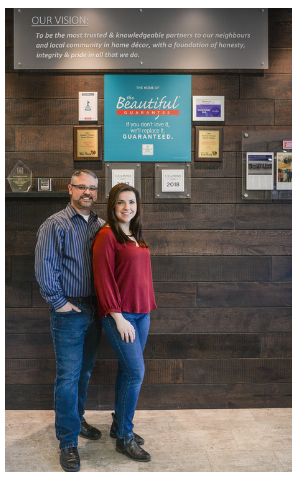 In 2009 I joined the staff as a Sales Consultant, helping customers find the perfect flooring solutions for their homes. Three years later I was offered the opportunity to take over the store by its incredibly supportive owner. By early 2014 everything was finalized and we became the very proud owners of Oshawa Carpet One along with our co-owners; our two sons. They may be the only two people born after 2009 that own a flooring store but they have already shown that they can handle it!
In the fall of 2014 Michelle left her corporate job in the Customer Service Industry to come work at the store full time, making the store complete. Every year we continue to grow thanks to our amazing team, great friends and customers. Today Michelle is a member of the Carpet One Advisory Council which helps in the continuous improvement of Carpet One across North America. For 2 years I served on the board of directors for the Canadian Flooring, Cleaning & Restoration Association (former FIO).
We love staying involved in the community as it gives us a chance to meet a lot of great people. We are proud to sponsor a team in the Oshawa Church Hockey League and the Oshawa Baseball organization. Michelle is active at our church and is a member of 100 Women Who Care which is a great organization of women who meet 4 times a year. They donate $100 at each meeting and all of the money is donated to a local charity that the group selects.
We are both incredibly proud supporters of the Ontario Ride to Conquer Cancer and have been for 12 years now. Michelle is excited to be joining me again in riding our bikes over 220km on Ride weekend this year.
We want to say thank you to all of our family, friends and customers. We look forward to meeting the rest of you and hope to see you soon!