Quality Vinyl Plank and Tile
Are you looking for a new floor that offers reliable performance above all? Visit Oshawa Carpet One Floor & Home to check out our selection of Mannington Adura. Adura is a luxury vinyl flooring option that, although it looks like real wood or stone, offers premium wear resistance and comfort.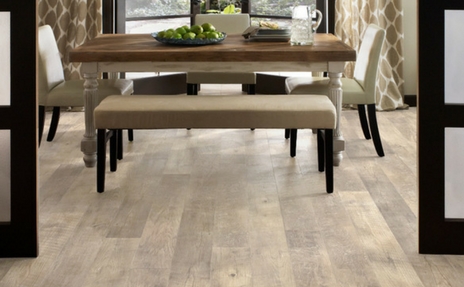 Luxury Vinyl Plank
Adura is available in 5"x36" and 6"x36" luxury vinyl planks. These planks offer authentic wood looks, and there are even some collections that offer authentic surface textures as well. But, unlike real wood, Adura resists almost all scratches, scuffs, and stains. Adura is extremely wear resistant because it includes Mannington's ScratchResist technology. With this technology, nothing will ruin the appearance of your new Mannington Adura floor.
Adura planks can be installed using a traditional glue-down method, but they also can be installed using Mannington's unique LockSolid installation. Planks that feature LockSolid technology will click together and float over the subfloor without any special adhesive. The LockSolid installation is preferred because it is relatively quick and easy, and because it eliminates seams between the planks.
Luxury Vinyl Tile
In addition, Adura is available in 16"x16" and 12"x24" luxury vinyl tiles. Whereas the planks offer wood looks, the tiles offer authentic stone and ceramic tile looks. Adura tiles, however, do have all of the same durability and comfort advantages that the planks feature. The tiles feature ScratchResist technology, and they also are much warmer and more comfortable underfoot than regular stone and ceramic tiles.
For more design versatility, Adura tiles can be installed using a special grout. This grout looks exactly like the regular grout you typically see with ceramic tiles, but it is specially-made for Adura luxury vinyl tiles. Of course, you can certainly choose to install the tiles without grout if you want a more modern look. Some Adura tile styles can be installed using the LockSolid installation.
Mannington Adura Max Waterproof Flooring
Dust and stains stay out, while natural good looks remain with this innovative luxury vinyl flooring. Adura Max braves your home's elements with its patented Scratch Resist coating and fully waterproof Hydroloc core, along with our extensive warranty coverage into the mix.
Made with your busy schedule in mind, Adura Max vinyl planks and tiles are made to easily click together, locking firmly into place and providing instant foot comfort and noise insulation.